Aaron Appliance Svc Inc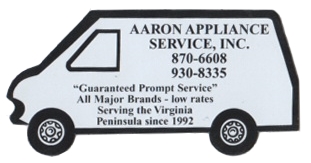 Business Information
Appliances-household-major-repairing, Refrigerators & Freezers-service/repair, Washing Machines Dryers, Water Heaters repair, ice maker, ranges, ovens
Major Appliance Repair
Washers -Dryers -Dishwasher -Refrigerator -Ovens -Ice Makers -Microwaves -Garbage Disposals -Water Heater's -Garbage Disposals -Ranges
Our services vary so we can fix most appliances made by different brands in the market. We offer the following repair services: Same Day Service -Washers -Dryers -Dishwasher -Refrigerator -Ovens -Ice Makers -Microwaves -Garbage Disposals -Trash Compactors -Compactors -Water Heater's -Garbage Disposals -Ranges
Homeowner's, Contractor's, Investor's, Realtors.
1992
Business Description
Aaron Appliance has been serving customers of the Virginia Peninsula for the past 18 years. We only offer factory-authorized repairs to the highest industry standards and our staff is fully trained and qualified to deal with almost any appliance. As you may have noticed, appliances aren?t as dependable as they were in the days of our parents and grandparents but you can be sure that once we fix your appliance, you will not need to repair it again!
Customer Reviews (No reviews)
No reviews were found for Aaron Appliance Svc Inc.