Arizona Real Time Pain Relief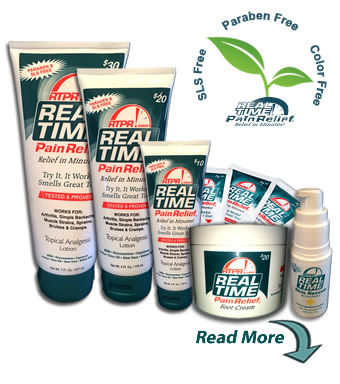 Business Information
All natural ingredients, Pain relieving lotion and roll-on, Sports related pain relief, Arthritis, Migraine headaches, Carpal Tunnel, Back Spasms, Back pain, Diabetic Neuropathy, Arizona Real Time Pain Relief, azrealtimepainrelief
Real Time Pain Relief lotion and roll-on
Sports medicine, General pain relief, Alternative medicine,
1998
Business Description
We have invested much time, effort and corporate resources testing to create the absolute best formulation of Real Time Pain Relief (RTPR). Recognizing that the pain relief market is large and diverse, we have specifically formulated three (3) versions of Real Time Pain Relief. Each formulation is designed to serve a specific market segment. Each version of Real Time Pain Relief is essentially identical in formulation and efficacy. However, there are a few nuances to each that allow RTPR to meet the diverse customer needs within the pain market and at the same time further extend our reach into the pain marketplace to help more people find safe effective relief.
Customer Reviews (No reviews)
No reviews were found for Arizona Real Time Pain Relief.