Comfort Ride LLC
321-543-7433

Fax: 321-338-2935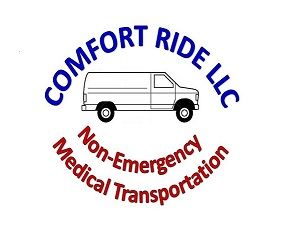 Business Information
Transportation Cocoa Florida, Transportation Melbourne Florida, Transportation Merritt Island Florida, Transportation Palm Bay Florida, Transportation Titusville Florida, Transportation Cocoa Beach Florida, Transportation Cape Canaveral Florida, Wheelchair Transportation Cocoa Florida, Wheelchair Transportation Melbourne Florida, Wheelchair Transportation Merritt Island Florida, Wheelchair Transportation Palm Bay Florida, Wheelchair Transportation Titusville Florida, Wheelchair Transportation Cocoa Beach Florida, Wheelchair Transportation Cape Canaveral Florida, Handicap Transportation Cocoa Florida, Handicap Transportation Melbourne Florida, Handicap Transportation Merritt Island Florida, Handicap Transportation Palm Bay Florida, Handicap Transportation Titusville Florida, Handicap Transportation Cocoa Beach and Cape Canaveral Florida
7 days a week Non-Emergency Medical Transportation all year round. We work with your bouget or with your insurance (Medicaid, Medicare, Workman?s Comp, other health plans)
Ambulatory Transportation: For clients who are able to ambulate independently or with little assistance such as walker or cane. Our staff is experienced in safe transfers in and out of the vehicle. Wheelchair Transportation: Our vehicles are equipped with state-of-the-art electronic lifts and safety devices to properly secure all wheelchair clients. We also have minivans with a ramp for your regular or electric wheelchair. Stretcher Transportation: We understand that some medical conditions and disabilities require clients to ride by stretcher. Our staff is experienced with safe stretcher transfers and proper client positioning. Our vehicles are equipped with safety devices to ensure a comfortable ride like Power Stryker Stretchers
Private Clients, Transportation Industry, Health Care Industry, Local Government, Federal Government, Medical industry (Curative, Preventive, Rehabilitative, Palliative, Health, Human Health, Pharmaceuticals, Biotechnology, Hospitals, Nursing homes, Health Insurance, Health Care providers, Nurse, Allied health professionals, Community Health Worker, Social Worker, Market-based health care systems) Medicaid, Medicare, Workman's Comp Clients, Health Insurances, Workers Comp Insurances, Adult day care facilities, Airports and seaports, Assisted living facilities, Cancer Centers, Churches, Social clubs, Dialysis centers, Doctor and dentist offices, Foster homes, Hospice facilities, Hospitals and rehabilitation centers, Hotels and resorts, Labs, Imaging Centers, Nursing homes, Outpatient Centers, Public and Private Schools and Colleges, Universities, VA clinics, Wound Care Centers, Senior Citizens Communities and Centers, Treatment Centers, Physical Therapy Facilities, etc
2010
United Medical Transportation Providers Group
MBE (Florida State Minority Business Certified)
| | | | | |
| --- | --- | --- | --- | --- |
| MONDAY | : | 5:00AM | - | 8:00PM |
| TUESDAY | : | 5:00AM | - | 8:00PM |
| WEDNESDAY | : | 5:00AM | - | 8:00PM |
| THURSDAY | : | 5:00AM | - | 8:00PM |
| FRIDAY | : | 5:00AM | - | 8:00PM |
| SATURDAY | : | 5:00AM | - | 8:00PM |
| SUNDAY | : | 5:00AM | - | 6:00PM |
Business Description
Comfort Ride LLC; non-emergency medical transportation located in Brevard County (Florida Space Coast) we provide transportation 7 days a week. Our drivers and staff undergo First Aid, CPR, and AED training. We do ambulatory, wheelchair, and stretcher transportations. Our affordable service is provided as POT (paid on transport on cash, check or credit card), and for clients on Medicare and Medicare, workman's comp, private insurances, etc. We offer bilingual services in English and Spanish. We have a state of the art vehicle fleet. We inspect the vehicles on a daily bases. Comfort Ride LLC provides every client with an experience that is beyond their expectations. Comfort Ride LLC is # 1 non-emergency medical transportation for all Brevard County (Space Coast of Florida) call us when you need a ride to Dialysis, Colonoscopy, Knee Surgery, Back Surgery, Physical Therapy, Cancer Treatments, Doctor Appointments, Hospital Discharges, Nursing Home Transfers, Hospice, and Radiation Treatments and minor surgeries, Methadone Treatment Centers and much more.
Customer Reviews (No reviews)
No reviews were found for Comfort Ride LLC.
Recent Comments
Our transportation service help disable people and senior citizens to go to their...
(more)
Comfort Ride
, Feb 26, 2011