Decorative Iron Works
973-595-8517
73 Belmont Ave # 83
Paterson
,
NJ
07522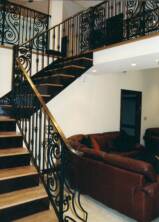 Business Information
Architectural/ornamental Mtl Work (mfrs), Welding, Railings
Railings
Business Description
Welcome! For over 55 years Decorative Iron Works has been turning our customer's visions and needs into reality. We specialize in custom fabrication of railings, stairs, spiral staircases, fences, gates, ornamental doors, balconies, window guards, custom ornamental metal work, and reinstallation/repairs. With locations in Paterson, Little Ferry, and Rockaway, Decorative Iron Works serves the northern New Jersey and greater New York City area. Call or email us for a free estimate and design consultation!
Customer Reviews (No reviews)
No reviews were found for Decorative Iron Works.