Gator Town Daily Deals
352-264-0068
5200 NW 43rd Street Suite 102-182
Gainesville, FL 32606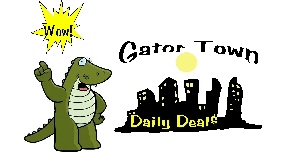 Business Information
Restaurants Gainesville Florida, Restaurants Alachua County Florida, Restaurant listings for 32601, restaurant listings for 32602, Restaurants 32603, Restaurants 32605, Restaurants 32606, Restaurants 32607, Restaurants 32608, Restaurants 32610, Daily Deals, Restaurant Discounts, Gainesville Florida restaurant discounts, Gainesville Florida Restaurant Deals, Gainesville Florida Restaurant Coupons
An unique advertising medium where local Gainesville, Florida restaurants can promote their business on an online web page and also alert local customers by SMS text message or by e-mail message of the Daily Deal Restaurant Discount Special.
Gator Town Daily Deal provides the Gainesville, Florida area local restaurants a web page to display their home page, their menu and prices, their In House Specials, their About Us page and also their Contact Us page. Customers can shop on only ONE online web site to view many local restaurant options and also can sign up for Free to receive the Daily Deals.
Gainesville, Florida Restaurants
| | | | | |
| --- | --- | --- | --- | --- |
| MONDAY | : | 10:00AM | - | 5:00PM |
| TUESDAY | : | 10:00AM | - | 5:00PM |
| WEDNESDAY | : | 10:00AM | - | 5:00PM |
| THURSDAY | : | 10:00AM | - | 5:00PM |
Business Description
Gator Town Daily Deals is a Internet Advertising Company that promotes Local Gainesville, Florida Restaurants. Customers can view the web site to see all the local restaurant menus, prices, In House Specials, etc. Customers can also sign up for free to receive a Daily Deal. This is when a local restaurant in Alachua County, Florida can have a Special Deal for that day and customers receive this Daily Deal by SMS text message or by e-mail.
Customer Reviews (No reviews)
No reviews were found for Gator Town Daily Deals.