Industrial Logics Electric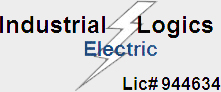 Business Information
electrical contractor California, industrial electrical contractor, industrial electrician
Business Description
Industrial Logics Electric is an electrical contracting company with high quality services for Industrial, Commercial, and Residential at the most competitive rates. We are a Licensed, Bonded, and Insured electrical contractor in California. We provide you with the information and resources you need to make educated decisions about which solutions are best for you. Our goal is to answer your questions about the services you require and how we can perform those services according to your specific needs. And that is only where our commitment to you starts. Our commitment continues in completing an assessment as to what we can do to implement the solutions that will address your needs. Then, we follow our plan as outlined to deliver solutions in the most timely, cost-effective way possible. We do not consider our job done unless you are fully satisfied. If there is ever a problem or if you have other questions, we're there for you.
Customer Reviews (No reviews)
No reviews were found for Industrial Logics Electric.