Lazy Sousa Ranch
406-626-4757
23205 Ninemile rd
Huson, MT 59846

Fax: 406-626-4421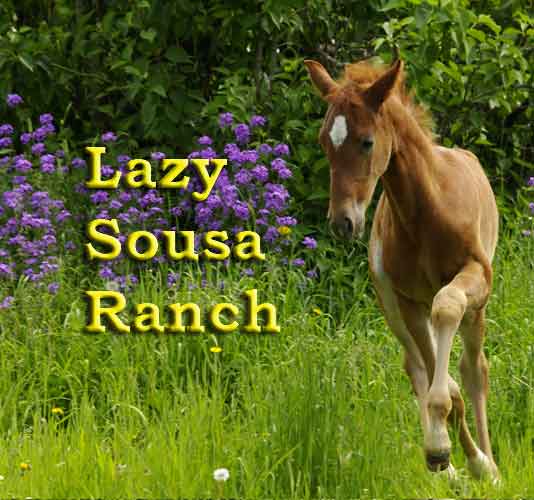 Business Information
www.lazysousaranch.com, Jan Sousa, Kate Sousa, Lazy Sousa Ranch, Tennessee Walking Horse, Tennessee Walking stallions, Tennessee Walking mares, Tennessee Walking brood mares, Tennessee Walking foals, Tennessee Walking horses for sale, Tennessee Walking show horses, Tennessee Walking trail horses, Tennessee Walkers, Tennessee Walking breeders, Tennessee Walking trainers, Tennessee Walking Horses Montana, grass-fed beef, grass fed beef, Scottish Highland cattle
- Grass-fed Beef - Well-trained Tennessee Walkers
- Breeding, Training, & Selling Tennessee Walking Horses & Scottish Highland Cattle
1984
Scottish Highland Cattle Breeders Association, Tennessee Walking Horse Breeders Exhibitors Assocation
Montana Versatility Championship, International Trail Pleasure
Business Description
Jan and Kate Sousa are a mother-daughter team who have been riding and raising Tennessee Walking Horses for the last 27 years. They also breed, sell, and train mountain-ready and show quality Tennessee Walking Horses and Scottish Highland cattle at The Lazy Sousa. The Lazy Sousa is over 600 acres of meadows, creeks, and mountains, bordering thousands of acres of state and federal land.
Customer Reviews (No reviews)
No reviews were found for Lazy Sousa Ranch.