www.MonkeyStitches.com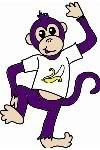 Business Information
personalized, birthday, t-shirts, baby, onesies, gifts, wedding, anniversary, custom, embroidery, embroidered, sweatshirts, polo shirts
Onesies, hats, bibs, pants, t-shirts, polo shirts, sweatshirts, 100% silk pillows, pillowcases, tote bags, backpacks
Custom Embroidered items
2007
Business Description
Personalized Custom Embroidered T-Shirts & Gifts * Baby Onesies, Hats, Bibs, Pants & Three Piece Sets/Outfits * Kids T-Shirts & Personalized Birthday Shirts * Personalized Adult T-Shirts thru 5XL, Adult Sweatshirts, Polo Shirts, Ladies Fitted Shirts * Personalized Wedding/Anniversary Lace Pillowcases & 100% Silk Throw Pillows Custom Orders & Special Requests Are Welcomed! Have an idea for a design you'd like on a shirt? I have many designs not shown & enjoy working with my customers to create custom designs. Just ask me about it!
Customer Reviews (No reviews)
No reviews were found for www.MonkeyStitches.com.