Muchmore Accounting Inc
561-246-4106
6405 Shadow Creek Village Circle
Lake Worth, FL 33463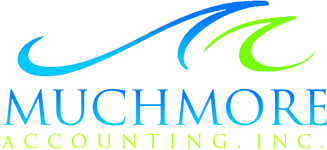 Business Information
bookkeeping florida, accounting west palm beach fl, accounting delray beach fl, accounting wellington fl, accounting boynton beach fl, accounting lake worth fl, accountant wellington fl, accountant west palm beach, west palm beach accountants, cpa west palm beach fl, cpa west palm beach, cpa wellington, south florida cpa
Quickbooks, accounting software
QuickBooks: Installation and Setup - We help determine the product for your business, install it and set-up opening entries, customers, vendors and payroll information. Training – Our accountants in West Palm Beach provide on-site or web conference training to you and/or your employees. Our CPAs serving Wellington will show you how to properly record transactions and effectively use the QuickBooks products. Our training is customized to your needs. Support – Ongoing QuickBooks support for all of our clients. Have a question? Give us a call. Accounting and Bookkeeping Services: Monthly Checklist Procedure – For those clients who like to do it themselves but would like reassurance throughout the year, we offer a monthly service to look over your shoulder to be sure your information is properly posted and reconciled each month. This is especially good for small businesses where an employee performs the day to day bookkeeping. Bookkeeping Services – If you prefer, we can handle the bookkeeping for you, either on-site or off-site. We also provide personal record keeping services and bill payment for individual clients. Budget/Analytical Procedures – In these economic times, it is important to have a good pulse on revenues and expenses. Let us help you prepare a budget and be accountable for hitting the marks. Monthly Tax and Compliance Services: We provide preparation services for the following: •Quarterly Payroll Tax Reporting •Year End Payroll Reporting - Including W-2s and 1099s •Sales and Use Tax Reporting •Income Tax Preparation and Planning for Businesses and Individuals
2005
quickbooks proadvisor program mentor, CPA, Tax preparer
Business Description
At Muchmore Accounting, Inc. it is our mission to empower small business owners to make sound financial decisions and attain their profitability goals through current and accurate financial information in an understandable format. We provide the accounting and bookkeeping support you need so that you may concentrate on doing what you do best – taking care of business.
Customer Reviews (No reviews)
No reviews were found for Muchmore Accounting Inc.