Tamn's Puppies (West Highland White Terriers--AKA Westies)
918-366-0967
19675 Ferguson Rd
Okmulgee, OK 74447

Fax: (918) 366-0967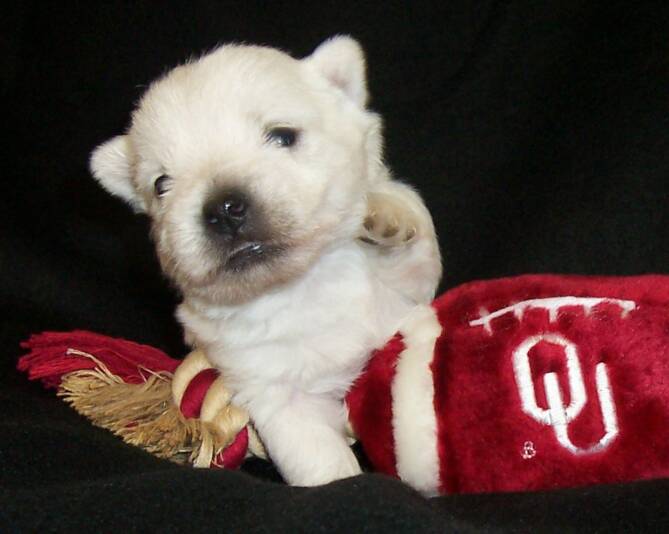 Business Information
Westies for sale, Westie puppies for sale, West Highland White Terriers for sale, West Highland White Terrier Puppies for sale, AKC Westies for sale, AKC Westie puppies for sale, AKC West Highland White Terriers for sale, AKC West Highland White Terrier Puppies for sale, Oklahoma Westies, Texas Westies, Arkansas Westies, Kansas Westies, Missouri Westies, Quality Westies for sale, Westie breeders, AKC Westie breeders, Tamn, Champion bloodline Westies for sale, Westie Puppy for sale, AKC Champion bloodline Westies for sale
I specialize in raising excellent quality, champion bloodline AKC West Highland White Terrier (Westie) puppies. All puppies have champion bloodlines so they truly look like a Westie should look. In addition, they make healthy, happy, well-socialized, wonderful family pets, and they come from a breeder who truly cares. I am NOT a puppymill, and I am more than happy to suppy my veterinarian's name and number as well as references from past customers.
All puppies come with the following items: AKC papers, a signed one year health guarantee, a veterinarian-signed certificate of health, up-to-date shots and worming, a HomeAgain microchip, a free one year subscription to HomeAgain, parent pedigrees, feeding/care instructions, housetraining instructions, dewclaw removal, and a breeder who will actually answer all of your questions
2003
American Kennel Club (AKC), Tulsa Dog Training Club
Excellent quality, Champion bloodline puppies from a breeder who loves her dogs
Business Description
I am a small, reputable Westie breeder. I only raise Champion bloodline West Highland White Terriers. My goal is to raise healthy, happy, well-socialized, beautiful puppies. I believe in quality, not quantity. Please visit my website for information and pictures of my dogs, my family, my puppies, and myself. I do not sell to puppymills or brokers--thank you.
Customer Reviews (No reviews)
No reviews were found for Tamn's Puppies (West Highland White Terriers--AKA Westies).